Vale David Dash. Passed away peacefully 7 August 2021.
David was a brilliant and dedicated engineer whose impact on our industry is impossible to overstate. His tireless and abundant work on technical specifications, test procedures, policy and culture made him one of the most influential roads engineers in our history. Equally effective at detailed design, construction processes and broad policy setting, there is hardly a major road in NSW he did not contribute to during his career which spanned over 50 years. He was technically very astute and professionally committed, both a leader and advocate.
He was a mentor to many.
It is impossible to raise the topics of quarrying, aggregate grading and shape, and paving without hearing his no-nonsense, wise and shrewd words. He was singularly associated with adapting the 'Shilstone' method to local practice for combined aggregate gradings and workable paver mixes now widely and successfully used in practice.
Career snapshots
Commenced in the mid 60s with the Department of Main Roads NSW in country offices at Grafton, Port Macquarie and Bega.
He spent time in bridge design.
Supervising Engineer at Blacktown Divisional office in 1984/5, and then Divisional Engineer at Goulburn.
From 1985 to 1988, in the Australian Bicentennial Road Development Program, contract Superintendent on all major construction work on the Hume and Federal Highways including concrete pavement works.
In that period conspicuous in many areas contributing to the concrete pavement industry where it is today.
From 1988 until 1993, Manager of Major Projects Northern Region (Newcastle) including all works on Sydney to Newcastle Freeway and Pacific Highway. One of many challenges met and overcome was successfully constructing concrete pavements through cuttings that exposed coal seams close to active mining areas.
After Newcastle, RTA's General Manager Pavements Branch, based in Sydney. In this role he was instrumental in documenting a number of typical cross-sections for both rigid and flexible pavements for use as guides to designers, still in use today.
After (sort of) retiring from the Department, did he ever actually retire, David was engaged as a consultant to RTA, SMEC and also over a period of about ten years with Arcadis (/Hyder Consulting) where he worked on many major projects.
His expertise was recognised internationally when he was engaged as lead consultant on a new major concrete highway project in Kazakhstan on the old silk route after, which he was dubbed "The New Marco Polo".
In the Hunter (Newcastle) region of what is now Transport for NSW, annual Staff Awards are given in his name, the "David Dash Award".
In August 2014 his career contributions to industry were justly recognised when he was made an Honorary (Life) Member of ASCP.
Legends are made, not born. David made himself a legend
Until 20th Aug 2021, tribute messages may be left here – your messages will be compiled into a book and provided to David's family at an appropriate time.
In lieu of flowers, David's family has asked that you contribute to the Colong Foundation for Wilderness or the Lung Foundation Australia. ASCP will be making donations to both in his name.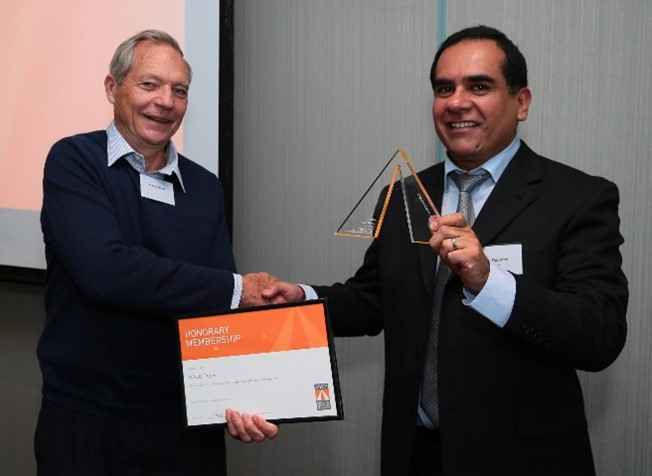 Back to News