After a long two (2) year hiatus the Australian Society for Concrete Pavements (ASCP) first F2F event was a resounding success!  Over 100 individuals registered, with 65 registered for the F2F and 35 joining us online via Teams Meeting.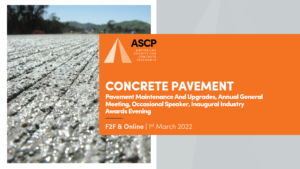 The March 2022 Forum focused on Pavement Maintenance & Upgrades, with a very special address Deputy Secretary of Infrastructure and Place at TfNSW, Camilla Drover who attended the Inaugural Technical Awards Event and networking with members into the evening.
Some take-aways from Camilla's address. Camilla spoke about the significant investment of $71.5bn worth of transport infrastructure to deliver, within the next four years which will include an awful lot of concrete.  Camilla noted partnerships with industry to improve the sustainability of construction and reducing the carbon footprint set-out in TfNSW Sustainable Procurement in Infrastructure initiative which is about providing a framework for implementing a circular economy and working to align our portfolio to meet the decarbonisation commitments outlined in Transport's Sustainability Plan 2021.
The ASCP, Members and Sponsors would like to extend our thanks to Camilla for her time, moreover engaging talk which generated considerable discussion during the post awards networking.
Resources for this Forum will be available from March 31st. Click this link for access.
Follow this link to register now for the next ASCP Forum.
Back to News