At its last meeting, the ASCP National Executive spent some time discussing the need to develop a Training Strategy to address the concrete paving industry's needs in this regard.
While there are some training courses provided by RTA, CCAA and others, there would appear to be little related to engineers, project managers, and supervisory personnel.
Moreover, there does not exist a comprehensive statement of training requirements nor their providers for the complete range of personnel and functions for concrete pavement design and construction. ASCP is aware that many organisations may provide their own training for their staff.
The National Executive proposes to establish a Working Party to
1. Identify training requirements
2. Identify the providers of training courses and their suitability to meet our industries needs,
3. Where shortfalls in available training are identified, development of courses to bridge these gaps.
The desired outcome will be an ASCP recommended Training Strategy and Framework that will provide for those in the industry a clear path to follow to continue their development in the field in a structured manner.
ASCP President, Mark Hoskins, welcomes input on this important subject from members, and invites members with a special interest in this matter, and with an ability to contribute, to apply to join this working group. To apply, please email your interest and ability to contribute to the Executive Director.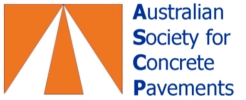 Back to News