ASCP has invited the International Society for Concrete Pavements (ISCP) Board to Sydney in August.  While here, the ISCP Directors (world experts in their fields) will present at a one day conference in Sydney on 2 August.
Full details for the Conference can be found on the "ASCP Conference" tab at the top of this page.  Companies may also be interested in participating throug a range of sponsorship opportunities, details of which are also on the "ASCP Conference" page.
Registrations are now open, and there are substantial discounts for registrations made before 1 June.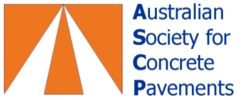 Back to News